Help Desk - Common Problems: Difference between revisions
Jump to navigation
Jump to search
 

(One intermediate revision by the same user not shown)
Line 18:
Line 18:

=== Mobile ===

=== Mobile ===

I.e. When logging into a mobile phone, you don't need to sign anything. It should take you into the site.

I.e. When logging into a mobile phone, you don't need to sign anything. It should take you into the site.

 










[[Category: Norwescon 43]] [[Category: helpdesk]]

[[Category: Norwescon 43]] [[Category: helpdesk]]
---
Latest revision as of 11:24, 3 April 2021
Pinned notes
Should have a note about the Help desk team checking pinned Discord messages in #staff-helpdesk and #helpdesk-private for important tips.

Access Issues
Try first
Verify the link they are using
Verify that they are on a PC (if host/Speaker/Organizer)
Mobile Triage

iOS or Android?
Downloaded the Airmeet app?
IF iOS the member needs to log in to Airmeet using the login button in the upper right corner before pasting the event link. VERY IMPORTANT they use the same email address they registered for the convention with.
Other options
If people are having trouble getting into the Convention, and logging out completely does work, have them try using the below URL copy/paste into Chrome to access it. The full URL for the con is: https://www.airmeet.com/event/75b97190-74cc-11eb-880f-c3e5b66a28ed
This Airmeet is Private
This error is commonly because the person was either NOT uploaded or NOT uploaded with correct information to Airmeet. If you have this issue, refer them to @reg to verify the email address that is in the system.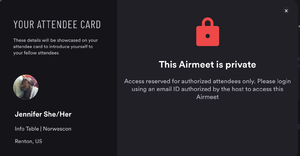 Mobile
I.e. When logging into a mobile phone, you don't need to sign anything. It should take you into the site.
Profile changes
Pros, panelist – Airmeet Tier 3 team will need to make this change. All others can be done using the instructions on the documentation in the wiki. FYI, a log out then back into the Con may be needed to see that the change has occurred.